Any person or company that intends to have a corporate blog that can compete in its sector and offers enough quality content to be a reference, the position itself needs a CMS (Content Management System). We will now show you the advantages of WordPress which is the best CMS for SEO in a Digital Marketing strategy.
Do you want to know about the most SEO-friendly CMS? Keep reading!
Why is a Good CMS Essential in an SEO Strategy?
Let us bear in mind that a correct SEO strategy seeks to increase a brand's visibility, attract traffic, gain authority, and educate the market, among others. Therefore, it is necessary to constantly provide content that can go, little by little, achieving those objectives with relevant material. In addition, it facilitates the use of various resources to optimize the entire strategy.
A CMS allows you to perform various web development tasks and update daily without requiring specialized knowledge.
But it is advantageous when we want to apply SEO correctly, thanks to the quick internal configuration, such as the title, internal links, text blocks, and categories on the website.
This technological tool can meet the specific needs of your company, and at the same time, generate optimization results, at low costs, with the option of monitoring the entire process.
What Advantages Does WordPress Have for Web Positioning?
WordPress is the most used CMS and is recommended by Digital Marketing experts for its ease of use and number of plugins, which make it particularly competitive and useful.
This content management system offers multiple benefits in terms of internal optimization. In addition to being highly compatible with Google, the largest search engine in the world.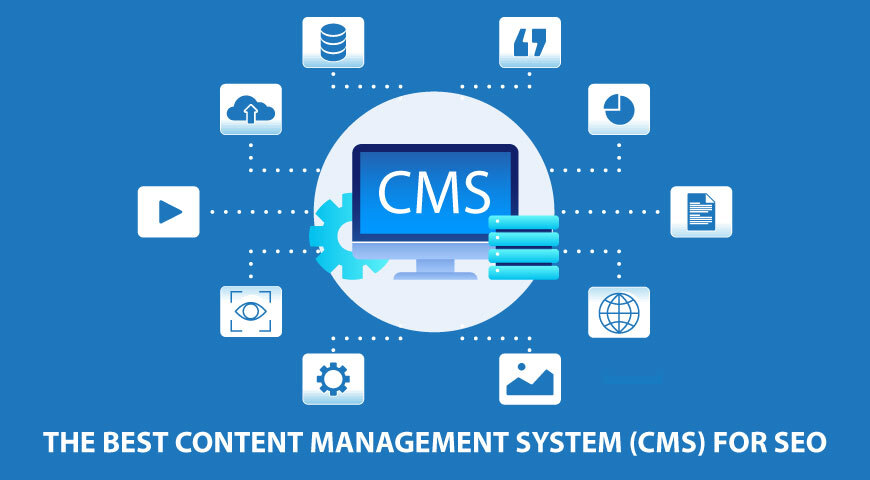 Next, we will show you the most relevant benefits that WordPress has for SEO so that you can apply and modify your materials to conquer the top of the search engines.
Creation of Permanent Links
Creating page structures to be "SERP friendly" is a mantra in SEO. When we talk about URLs, indicating to the search engine what it will find in the content from its address greatly favors the positioning of a website.
This CMS allows you to modify with just a couple of clicks. The entry name and create the conditions to have a presence in searches.
Categories
Each of the posts on a blog must have a category, which allows creating a structure. In addition, it helps the Google indexing process.
From WordPress, it is possible to categorize each blog entry and add a tag to it. So that search engines can quickly take you into account when uploading said material to the web page.
Well Structured Code
Search engines have the peculiarity of "appreciating" well-structured codes, which translates into better positioning.
WordPress, in this sense, has significant advantages. Since, being an open-source program, the necessary modifications can be made to improve security and functionality.
Image Optimization
One of the most special features that WordPress has for SEO is that it has the ability to optimize images. Which contributes a lot to SEO positioning.
In addition, the CMS platform has the option to add plugins specifically designed for this task and improve your results.
Internal Links
Internal links are those links within the content of your blog that lead to other content of yours. You surely know that, right? Well, from WordPress this task is much easier.
From the same platform, it is possible to select the content where you want to put the link and paste the URL to which you want to point.
This practice is very effective in capturing users, keeping them on your blog for as long as possible, and, of course, favoring SEO positioning.
Sitemaps
Site maps are blocks of information that help search engines to find the relevance of content according to the keywords they use.
This makes the indexing process much easier, especially on blogs and web pages. It tells Google what kind of content is the website contains.
When we talk about WordPress for SEO, this is one of the advantages that stand out most of the time. From here you can easily add sitemaps without having to resort to HTML or other platforms, which can be tedious or expensive.
These are the benefits of using the CMS and specifically WordPress for SEO. And it is, without a doubt, a tool that greatly facilitates the work of SEO professionals and helps them take blogs and web pages to the top of the search engines.
Now, as the last topic in this article, we will tell you about those characteristics that a blog made in WordPress must have to complement and guarantee the results of your strategy.
You May Also Read: The Complete Guideline to Use WordPress HTTP API
Must Having Elements for Your WordPress Blog to Complete the Strategy
After creating the blog in WordPress, it is necessary to take some steps to ensure that the positioning strategy works, giving the search engines the necessary elements to indicate its relevance and good structure.
Next, we tell you what they are:
Themes
It refers to the "face" that the blog will have. Within WordPress, in "Appearance", you can choose several of them with different styles that are already pre-designed and free. However, if you want a more personalized and unique face, it is recommended that you buy some of the premium ones.
Always keep in mind that user experience should be the number one priority on your blog. Therefore, make sure to apply an attractive, comfortable, and functional theme so that Internet users feel good browsing it.
Now, the 'Appearance' is not just a theme. The elements that make up the menu and those located in the sidebar also need to be configured.
In the menus, you can insert external and internal links, which direct traffic to specific entries on your blog, and categories can be added so that users can find the topics of their interest with a single click.
Also, within WordPress, you can insert floating elements in the sidebar, the footer, and other places. These are called widgets, and they are a fundamental part of a blog since they show features such as:
most read posts;

blog categories;

social media buttons;

CTA to take to other pages of the blog, among others.
Plugins
When we talk about adapting WordPress for SEO, it is undeniable that sometimes we will need "extra" help. These functionalities, called plugins, can add special features to your blog, to make it even more unique and personalized.
For example, among the most prominent are:
Backup WordPress: configuration restorer.
Google Analytics: plugin to record the property number and measure visits to a blog.
Social Media Flying Icons: floating buttons to always show them while scrolling on the page.
WPForms: contact forms, to capture leads.
Integrate Google Analytics and Google Search Console
Google Analytics is a tool used to measure visits within a blog, and it is entirely free. Once the blog is created in WordPress, it is necessary to configure or create its property in Google Analytics, adding the URL of the site. When this is done, the platform will start measuring visits.
Google Search Console is a fundamental tool within Digital Marketing used to update materials to reach the top search engines.
To create the property of your site in this tool, it is necessary to enter your host and enter the file manager to load and insert the file google0000000000.html (example) within public_HTML. And with this, you can determine which keywords of your content are positioned.
Conclusion
WordPress for SEO is an ideal platform, which includes enough functionalities to create, measure, and update your content to make it more and more relevant to your users and obviously to Google.
Using this CMS is more than recommended to guarantee the success of a positioning strategy. Moreover, this application of tools and integration with various platforms to increase efficiency makes it the best CMS for SEO.
If you have any difficulties, please join our Theme Rally Community to ask your questions.