Hey, do you know how to create a gallery in WordPress? Well, creating your own WordPress gallery is easier than you imagine. In fact, you will probably spend more time choosing which images to use than putting them together to create a gallery in WordPress. In this article, we'll teach you how to create a WordPress gallery in three steps:
Upload the images you want to include in your WordPress gallery.
Add the images to your gallery.
Place your gallery anywhere on your site.
On top of that, we also show you seven of our favorite WordPress gallery plugins, so you can take advantage of features that the platform doesn't offer right out of the box. Let's get to work!
Step 1- Upload The Images You Want To Include In Your WordPress Gallery
The first thing you'll need to set up a WordPress gallery is images. For this tutorial, we will be using pictures of babies to animate the process.
First, log into your WordPress dashboard and navigate to your Media> Library tab. Once you're there, click the Add button at the top of the screen:

Then click on the Choose Files button to open your local file explorer:

To speed things up, we recommend that you upload all the images you want to place in your gallery at the same time. For this, we created a folder called baby pictures on our own computer:

When you select multiple images to upload at once, WordPress shows you the progress of each individually:
Give the platform a few moments to work until all of your uploads are complete. The time needed will depend on your internet speed and the size (and number) of images you are uploading.

If you feel that the upload process is taking too long, you can cancel and optimize the images in your gallery before putting them on your website. Keep in mind that high-resolution graphics tend to be better, but they are often way too heavy. In most cases, you should be able to compress them a bit without affecting their quality – a process called "image optimization".
Otherwise, you'll be ready to move on to the next step once all of your images are uploaded and ready.
Step 2- Add Images to Your WordPress Gallery
Now all of your images are ready. Find the page where you want to place the gallery and open it using the WordPress editor (or just create a new page).
Adding the gallery to the page is very easy. All you need to do is to locate your cursor where you want the gallery to be in the editor, then click the Add Media button at the top:

A new screen will appear, with options to place images from your media library, set up a gallery, or create a media playlist. Use the Create Gallery option and select the Media Library tab to its right:

Then click on all the images you want to include in your gallery. When you've selected them all, choose the Create New Gallery button at the bottom right of the screen, and you're good to go! Let's move on to the last step, where we'll show you how to place your gallery.
Step 3- Add Your WordPress Gallery to Your Website
At this point, you should see a screen titled Edit Gallery, which shows you all of the images you added in step number two. Then, you can choose the number of columns in your gallery, the size of its thumbnails, and the order of the images.
You can also add individual captions to each image and decide if they should be associated with something. By default, WordPress will direct visitors to the attachment page by clicking on each image.
Once you're done, click the Insert Gallery button, and your gallery will appear in the WordPress editor: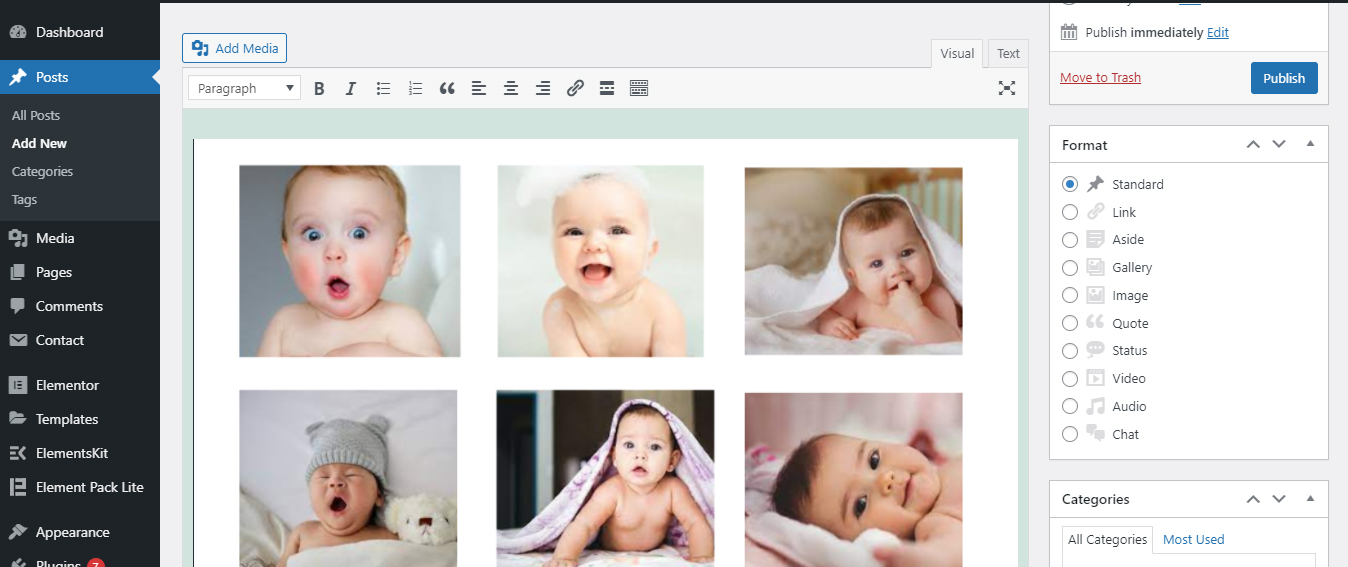 The bad news is that WordPress doesn't allow you to reuse the same galleries that you've set up on other pages. If you want to copy a gallery, you have to repeat the process by choosing the same images and settings. However, it shouldn't take you long, as the images are already displayed on your website.
Besides adding images to your posts and pages, you can also use the WordPress Gallery widget to place them in your sidebar or footer. To do this, go to the Appearance> Widgets tab and find the Gallery widget :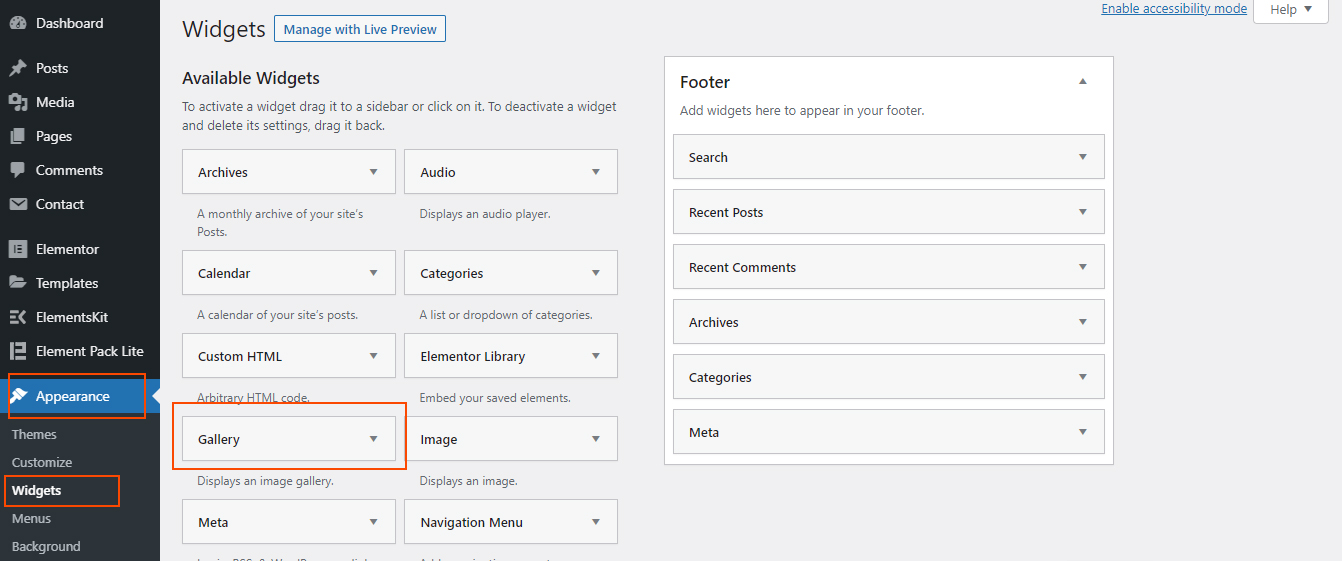 Now drag this widget to your sidebar or footer and place it where you want it to appear. Then the widget will ask you which images you want to include in your gallery.
Note that you can also add captions to this widget and give your gallery a title: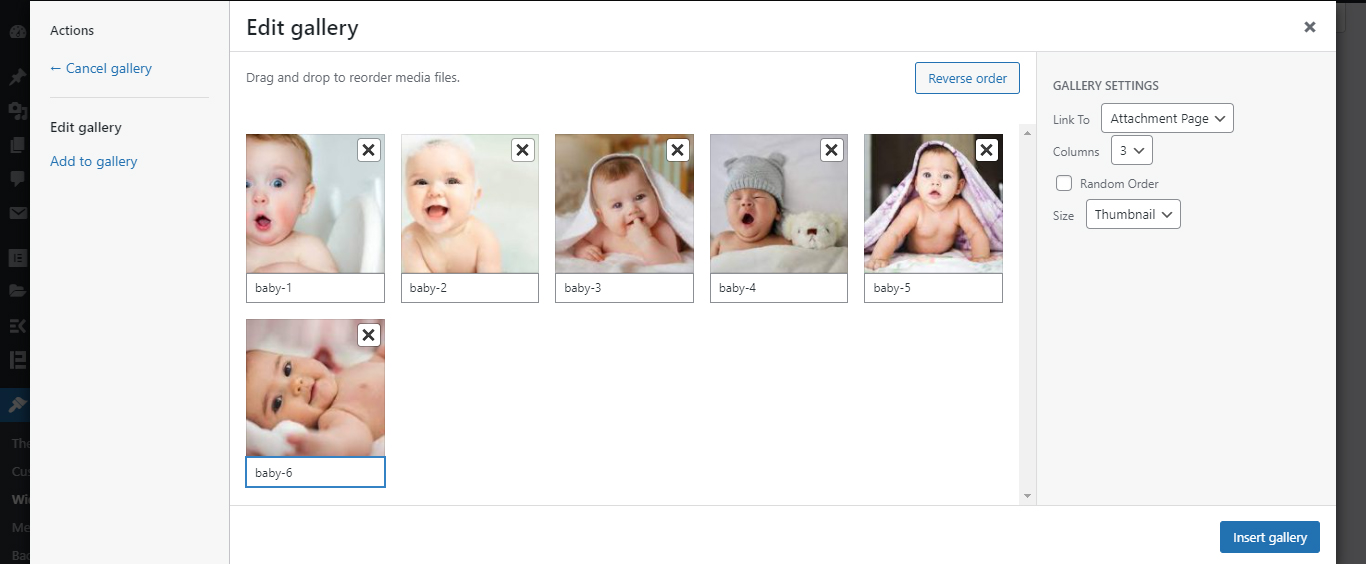 When you're done, click the Save button and you will be able to see your gallery in your sidebar: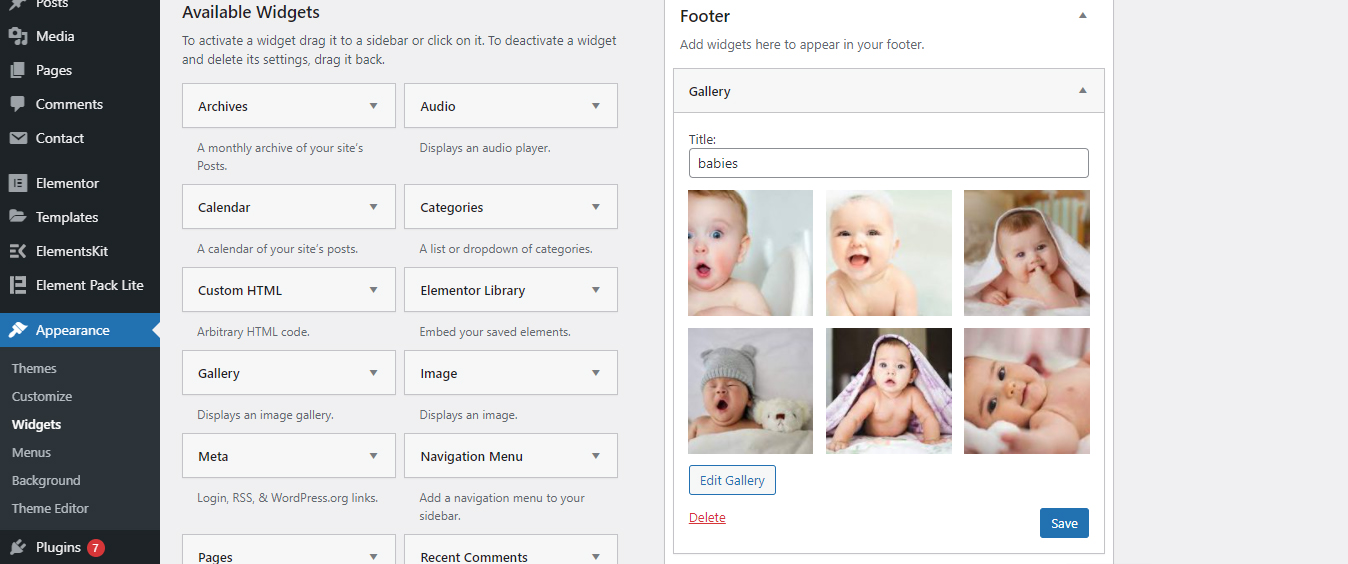 As you can see, creating a WordPress gallery couldn't be easier!
However, the types of galleries you can configure outside of the one offered are not really featured rich. If you want to upgrade your WordPress galleries, you'll need to turn to plugins, which we'll talk about right away.
You can also read: 15 Must-Have WordPress Plugins for Photographer
7 Best WordPress Gallery Plugins To Showcase Your Images
There's nothing wrong with the WordPress gallery feature. However, with the right plugins, you can access a lot of cool new features. Let us introduce you to some of the best gallery plugins for WordPress.
1- Photo Gallery by 10web
10web photo gallery is one of the best gallery plugins for WordPress. It offers you several gallery layouts that you can use including slideshows, compact albums, etc. You can also use this plugin to implement lightbox effects, which opens the full-size image when someone clicks on it.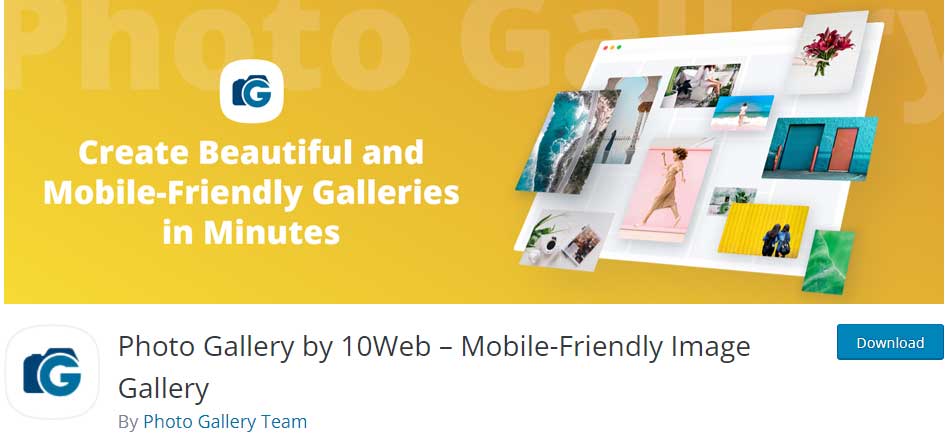 In addition, this WordPress gallery plugin allows you to include images and videos in the same gallery. You also have access to several widget options, instead of the only one that WordPress offers by default. Overall, this plugin is the way to go if you want to access so many gallery-related features.
Main features:
Set up WordPress galleries using unique layouts
Mix images and videos in the same gallery
Access lightbox effects for your WordPress gallery
Use multiple types of widgets to add galleries
Download Photo Gallery by 10web
2- Image Gallery by Robo
Robo's Gallery is a fantastic plugin if you want to have a high degree of control over the style and conduct of your galleries. As with the previous plugin, this one allows you to choose from multiple gallery layouts for your site. However, you can also add slideshow effects, customize your font settings, and even include borders around your images.
With these styling options, Robo's Gallery will automatically resize your images upon upload. This setting saves you space, as most sites don't need gigantic images. Finally, this plugin ensures that all your galleries are compatible with mobile devices.
Overall, the high level of customization makes the Gallery of Robo a wonderful choice if you want to change every aspect of the galleries on your site.
Main features:
Choose from several layouts for your WordPress gallery
Add various types of effects to your images
Automatically resize images when uploading
Set up a load for galleries with a lot of elements
Create mobile-friendly galleries without any extra work on your end
Download Image Gallery by Robo – Responsive Photo Gallery
3- GridKit Portfolio Gallery
Although this plugin includes the word 'portfolio' in its name, you can use it to create any type of WordPress gallery you want. Besides images, GridKit Portfolio Gallery also supports videos from multiple sources and WooCommerce products. Moreover, it includes social media sharing options so that visitors can show your work to their friends and acquaintances.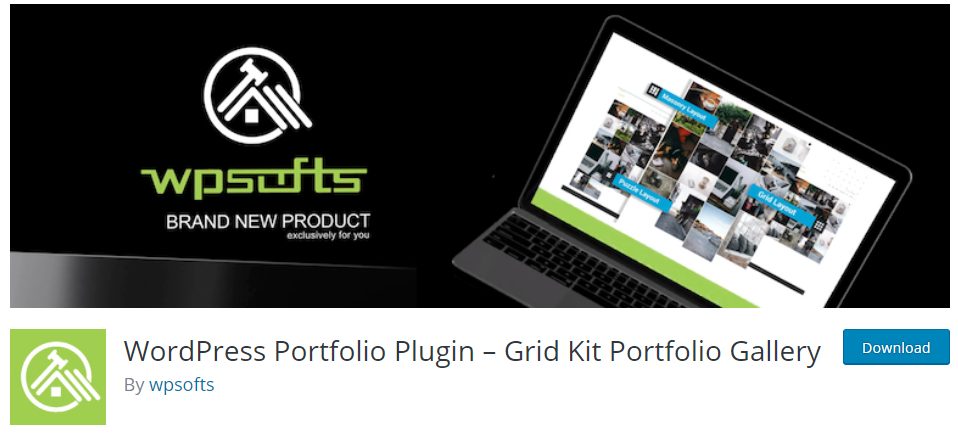 Much like the other plugins we've seen so far, this one allows you to create mobile-friendly galleries. It's also a fantastic option if you want to feature client logos, create team member sections, etc. Overall, if you're looking for a plugin that's very flexible in what kind of gallery it can help you set up, this one is a pretty good choice.
Main features:
Set up the image and video galleries
Showcase WooCommerce products using a gallery
Create sections for team members
Choose from several types of layouts for your galleries
Download WordPress Portfolio Plugin – Grid Kit Portfolio Gallery
4- Responsive Lightbox & Gallery
So far, all of the plugins we've seen make significant changes to the WordPress gallery system. Responsive Lightbox & Gallery, on the other hand, is pretty straightforward. This allows you to create responsive galleries and also includes lightbox functionality.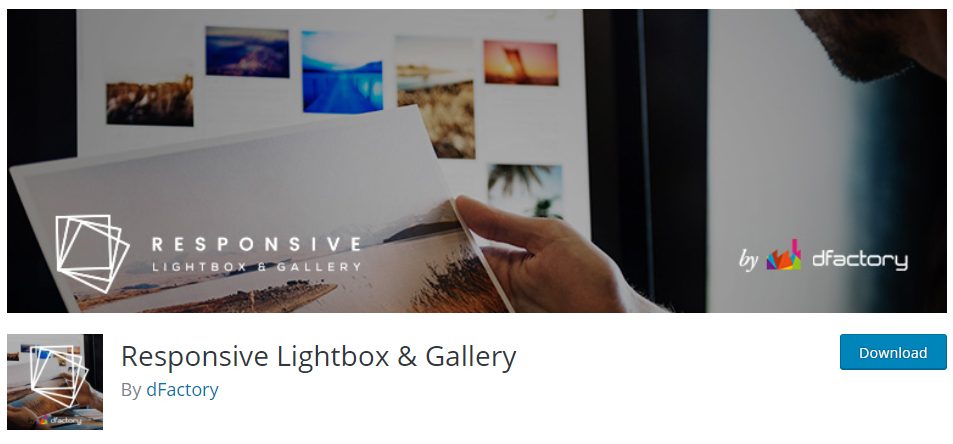 You can set up your lightboxes, choose from three basic gallery layouts, and even use widgets to place your images where you want them. It's one of the more intuitive WordPress gallery plugins we've tested, and it's a useful tool if you're looking for something simple.
Main features:
Set up simple and mobile-friendly galleries
Choose from three layouts for your images
Configure your gallery's lightbox settings
Download Responsive Lightbox & Gallery
5- Video Gallery – YouTube Gallery
There are a lot of plugins that allow you to add videos to your WordPress galleries. However, few of them focus primarily on video galleries, which is why we love this one so much.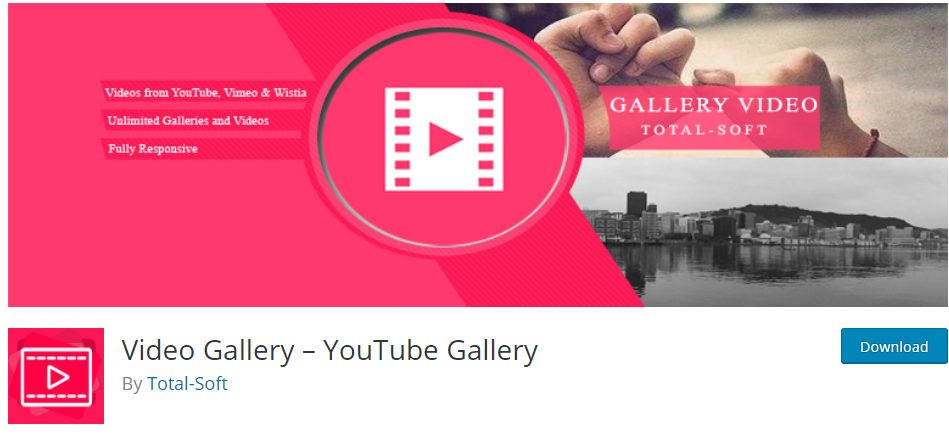 With Video Gallery – YouTube Gallery, you can set up responsive video collections. You can connect to multiple video platforms including YouTube and Vimeo, add effects to your thumbnails, include lightboxes, etc. Additionally, you can place your video galleries anywhere on your site, using a simple shortcode system.
Main features:
Upload videos from YouTube, Vimeo, or files from your site
Place your video galleries manually or using shortcodes
Choose from several themes and layouts for your galleries
Download Video Gallery – YouTube Gallery
6- Gallery by Ape
Although it doesn't have the most original name, Photo Gallery remains one of our top picks. It offers a very comprehensive approach to WordPress galleries and includes almost all the features we've seen in other plugins so far.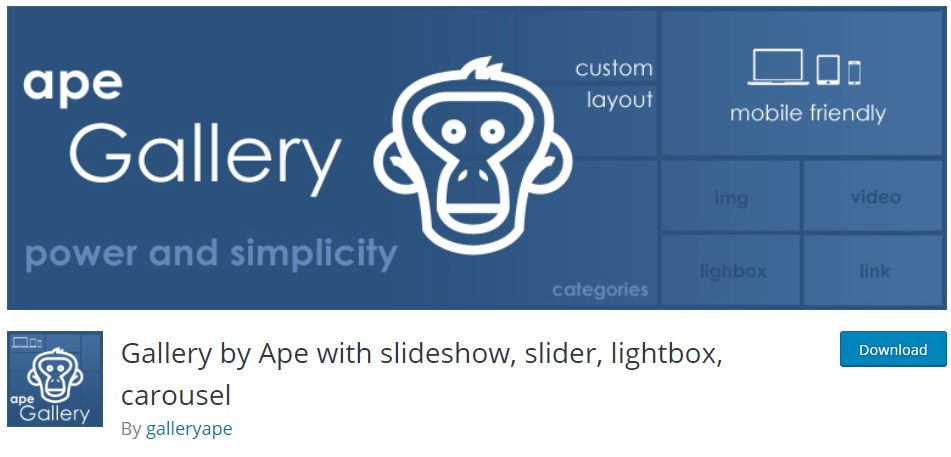 For example, this tool allows you to add transition effects to the images in your gallery. It also supports image categorization and gallery navigation, which makes searching massive libraries easier. In addition to that, Photo Gallery offers the ability to add videos to your galleries, upload your heavy images, and even have social media sharing features.
In summary, if you lean towards micromanaging the look and feel of your site, this plugin should be right for you. Thanks to this, you will be able to modify all aspects of your galleries.
Main features:
Add multiple transition effects to your galleries
Sort your images into categories and activate navigation in your WordPress gallery
Add videos and social share buttons to your WordPress galleries
Enable on-demand charging
Download Gallery by Ape with slideshow, slider, lightbox, carousel
7- Envira Gallery
Finally, the Envira Gallery plugin offers one of the most user-friendly experiences we've found so far. For example, it includes a gallery creation wizard, which makes gallery creation fun.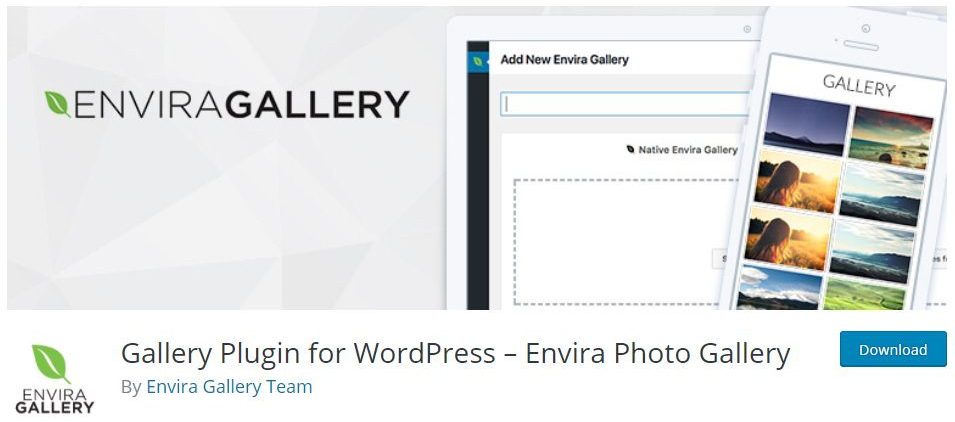 The goal of Envira Gallery is to allow you to create multiple galleries and easily configure them. For that, it includes several WordPress gallery templates, slideshow features, and social media sharing features. If you are looking for a sleek and easy-to-use WordPress gallery plugin, Envira Gallery should be one of your top choices.
Main features:
Create WordPress galleries using a built-in wizard
Choose from several gallery templates
Set up image slideshows
Add social media sharing features to your galleries
Extend the functionality of the plugin using add-ons
Download Envira Photo Gallery
Conclusion
WordPress galleries are simple and useful elements. The process of setting up a WordPress photo gallery is straightforward, although you might want to spend some time selecting which images to include. Once your gallery is ready, you just need to place it wherever you want on your site. Of course, you can also use a dedicated WordPress gallery plugin to get more customization options.
Do you have questions on how to create a WordPress image gallery or find a problem to create a gallery in WordPress? If you have then please join our Theme Rally Community to ask your questions.