Beginner users often ask us what widgets are and how to use them in WordPress. Widgets are those which allow you to add different features and functionality to your WordPress sidebars without writing any code. In this article, we'll show you how to add and use widgets in WordPress as well as share sample widgets.
What Are Widgets? Why You Should Use Widgets in WordPress?
Widgets are tiny blocks of specific functionality that you can place on your WordPress site. For newbies, this is an easy way for adding widgets like galleries, quotes, popular posts, Facebook-like boxes, and other dynamic stuff to their WordPress site.
Widgets can be found on the Appearance »Widgets page in your WordPress. You can add widgets under the list of available widgets.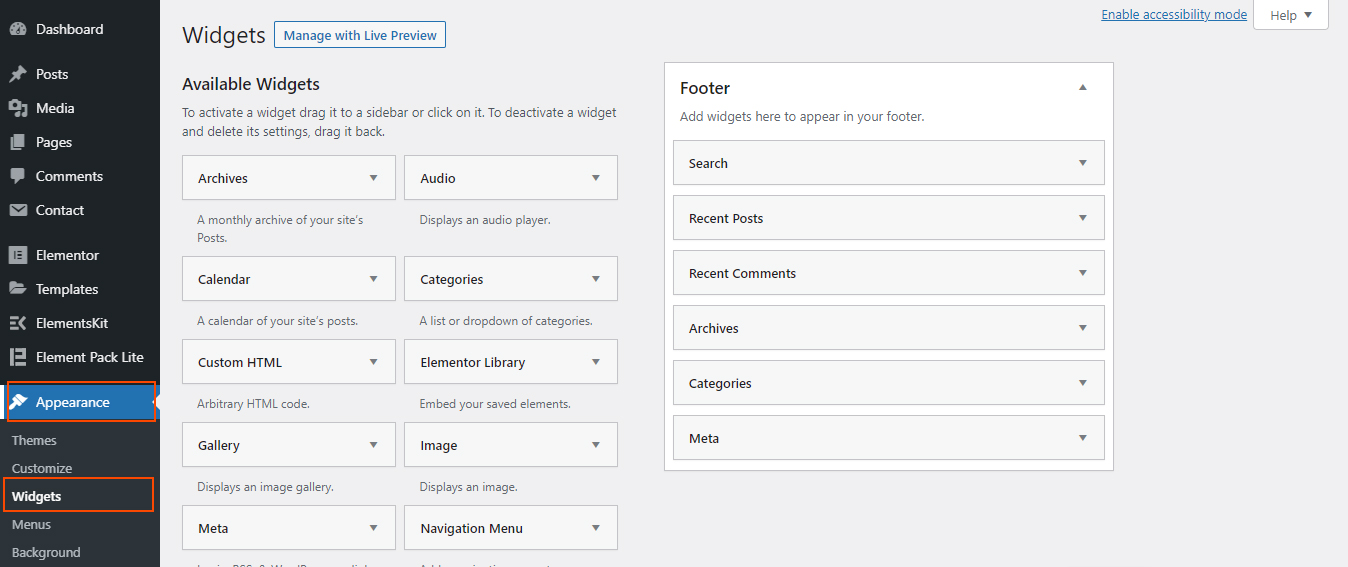 On the right side of your WordPress dashboard, you will find the designated areas of your WordPress site where you can place these widgets. These designated areas are defined by you. They are called sidebars or widget-ready areas.
If you don't see the specific widget you're looking for, it can probably be added with a plugin.
Adding Widget to a Sidebar in WordPress
There are several ways available to add sidebar widgets to your WordPress theme. The easiest way is to just drag and drop them into your sidebar.
You can also click on a widget title from the list of available widgets. WordPress will show you the list of sidebars where you can add this widget.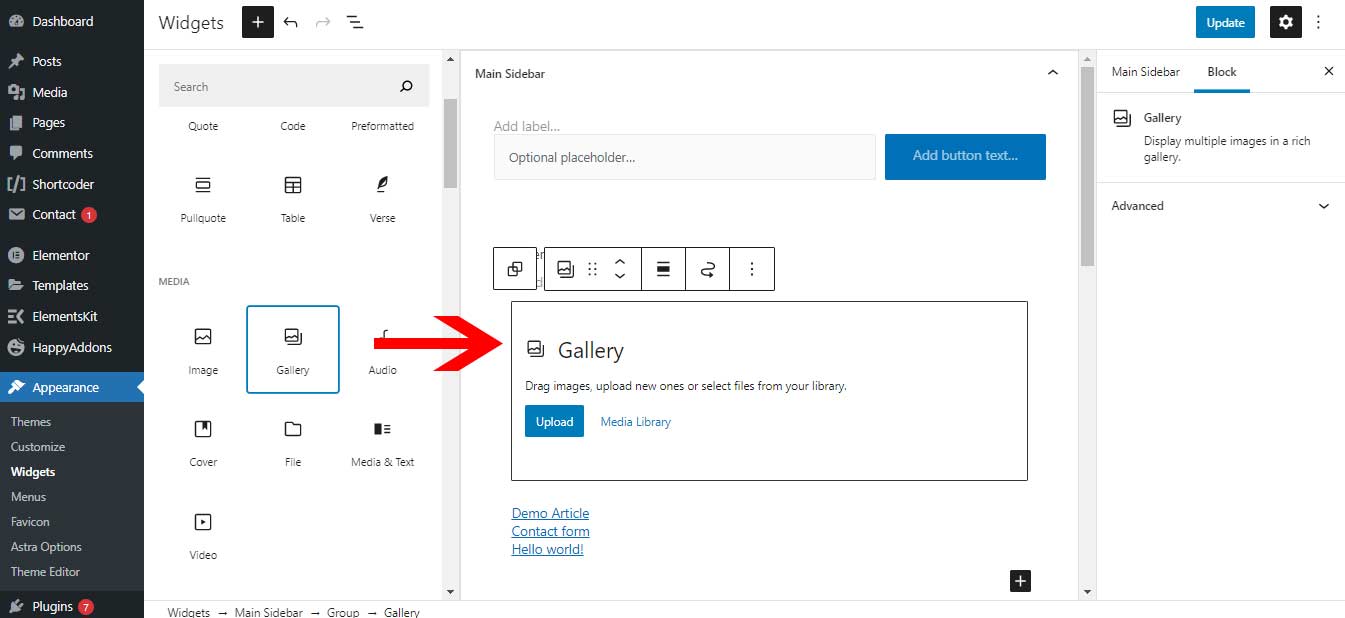 Just select the sidebar you want to add the widget and click the Add Widget button to add it.
There is also an accessibility mode for users who need it. To activate accessibility mode, you need to click on the button in the upper right corner of the screen.
It will display a drop-down menu with a link to activate accessibility mode for the widgets screen. After clicking it will change the user interface of the widgets screen.
Each available widget will now have a simple "Add" button. Clicking the button will take you to an accessible screen where you can easily select the sidebar.
The widgets page isn't the only way to add widgets to your WordPress site. You can also add widgets using live preview by visiting Appearance »Customize. Then you will see an interface like this:

It's important to note that, not all of your widget-ready areas and sidebars will appear in the customizer. That is why we recommend that you use the Appearance »Widgets screen to add widgets in WordPress.
You May Also Read: Beginners Guide on How to Start a Blog
How to Remove a Widget in WordPress?
Removing a widget in WordPress is as easy as adding them. Visit the Appearance »Widgets page. Find the widget you want to remove in your sidebars and click on the widget title to expand it.
Under the widget settings, you will find the link to remove the widget. Deleting a widget will remove it from your sidebar and also remove widget settings like the title or any options you selected.

Some widgets are too simple and don't have a lot of options in their settings while others have a lot of options and settings. If you want to remove a widget without losing the settings, you need to drag and drop it into the inactive widgets section.
Removing or sending a widget to inactive widgets does not remove it from the list of available widgets. You can always re-add a widget from the list of available widgets or inactive widgets.
What Types of Widgets Are Available for WordPress?
A default WordPress installation comes with built-in widgets like recent posts, recent comments, archives, research, etc.
Many WordPress themes and plugins come with their own widget. For example, the Envira Gallery plugin allows you to create beautiful image galleries in your WordPress posts and pages. But it also comes with an Envira Gallery widget, which you can add to a sidebar to display.
Likewise, countless other themes and plugins add widgets, so their users can add things to their WordPress sidebars without writing any code or HTML.
Conclusion
Widgets are an incredibly powerful and flexible tool in WordPress. WordPress developers are using them in many innovative ways. As a WordPress site owner, you can take this opportunity to add almost anything you can imagine to your WordPress site.
Plugins make a website more designable and user-friendly. By using plugins, many developers can build amazing websites without having good coding knowledge. But if you are comfortable with the code then you might want to learn it on your own.
That's it, we hope this article will surely help you to learn how to add and use widgets in WordPress. And if you have any difficulties or have any queries, please join our Theme Rally Community to ask your questions.