These days, building a website is no big deal; especially with the help of WordPress, we can design any type of site according to our needs. However, if you are thinking of creating an online business with an Auction website, you need to use the WordPress auction theme. So today, we will give you information about some best WordPress auction themes to use.
An online auction offers multiple opportunities for buyers looking for good deals and entrepreneurs looking for a good project that will provide the benefits.
Developing an auction website is not easy and requires complex programming skills. Still, now with these themes, you can quickly transform your WordPress website/blog into a fully functional auction website. In addition, you can easily accept payment from your members using the payment gateway application. These themes have responsive web design features so that the auction website looks perfect on all types of devices.
Suppose you don't want to spend money on sales commissions, seller fees, gallery fees, and any other kind of fees for auctioning your product on a third-party website. In that case, you can quickly auction your items on your website using some awesome auction plugins.
Take a look at this post to choose your favorite auction WordPress theme and plugin.
Choose the Responsive WordPress Auction Theme
WordPress Auction Theme
This awesome WordPress auction theme will convert your regular website to a fully functional auction website. It has many features and is developed with solid and well-written code. It also comes with a responsive design and looks perfect on tablets and mobile phones (Android, iPhone, iPad, Nokia, etc).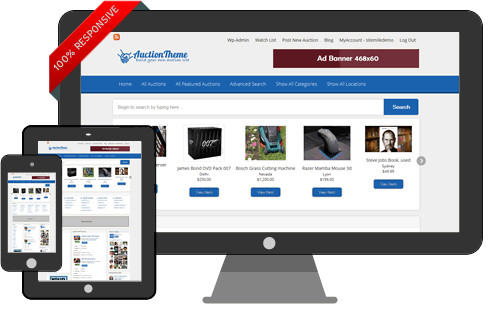 This WordPress theme also comes with an administration panel, with tons of features, such as auction posters, bidders at the auction, seamless WordPress integration, and multiple payment gateways. You can easily start your own online auction website in just a few clicks without having any programming skills. Some other features of this WordPress theme are as follows –
Characteristics:
Auction Entry:

 Auctions are custom WordPress entries. You can easily add new auctions from the WordPress admin, assign categories, assign tags, auction mode, set a reserve price, etc.

Tools:

 This WordPress theme supports multiple auction tools, namely a starting price, a buy now price, a reserve price, and much more.

Auction Expiration:

 You can set the maximum and a minimum number of days for each auction to run live.

Percentage Per Auction:

 With this theme, you can easily earn a percentage share of each auction/item you sell through your website.

Feedback and Ranking:

 Buyers and sellers can easily rate each other after each purchase of the finished item, and each user has their general feedback for other users to see.

Make an Estimated Bid:

 Your published auction will have an estimated bid. So after an auction is posted, bidders can offer a lower price than the "buy now" price.

Deposit or Trust:

 This is another excellent feature of this theme. Secure payments between users and a faster way to control the credits/funds on your site.

Payment Gateways:

You do not need unique payment integration since the theme has an integrated payment system. Currently supports PayPal, Payoneer, Moneybookers, ideal Mollie, Payfast, Sisow, Authorize.net, etc.
iBid – Multi Vendor Auctions WooCommerce Theme
iBid Auctions is the new WordPress auction theme available on ThemeForest. This WordPress theme offers a wide variety of options with all the necessary features, to be able to instantly create your own auction site with various options and a nice style. It comes with a responsive design, which means that your website will look great on all types of devices such as iPad, iPhone, Android phone, laptop, and desktop.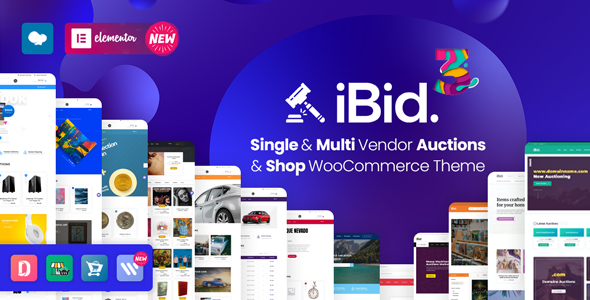 Through the project listing page, you can easily list all the auctions in a flawless manner. The developer of this theme has also added many features to the exclusive auction page such as social sharing, reviews, descriptions, auction history, latest bids, and buy now. With the help of shortcodes, you can customize your auction page according to your own needs. Some other features of this WordPress theme are as follows.
Characteristics:
Fully responsive design
You can use a demo to see how it is managed
WPML compatible for easy translation into other languages
Adding auctions easy with WooCommerce
Awesome shortcode generator
Widgets in the sidebar, i.e. recent post, search, categories
A super page for project lists etc.
Essential
Essential is a clean and optimized theme for good performance, which can be easily configured by the WordPress administrator. It is WooCommerce compatible and comes integrated with the WooCommerce Simple Auctions extension (you save $18 on the cost of the plugin). You can get your online store or auction website ready within a few minutes. It can be customized from the WP administrator, add your settings and plugins to start selling in a matter of minutes.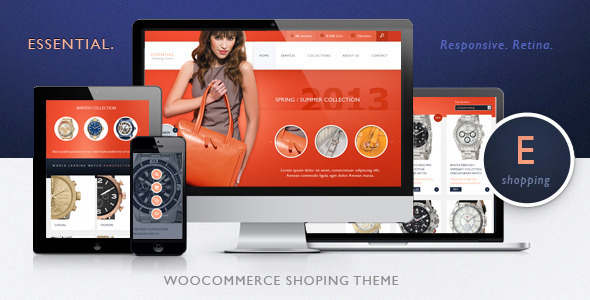 This theme is designed and coded to be safe and perform well, it can also be viewed on all types of Internet-enabled devices such as desktop, laptop, tablet, or mobile phones.
Characteristics:
WooCommerce compatible
Built-in WooCommerce Simple Auctions ($18 value)
WPML compatible for translation (.po files included)
Two nice and customizable Slider types ( with parallax )
Integrated comparisons and wishes without the need for plugins
Unlimited color schemes
Powerful but easy customization
Responsive and Retina
Zoom function included
Megamenu available
Online documentation
Demo content included (XML file)
WordPress Penny Auction Theme
Want to start your own penny auction website? So this WordPress theme will transform your WordPress blog into a real auction website for a penny auction. You can easily start your own penny auction website in minutes without any programming skills.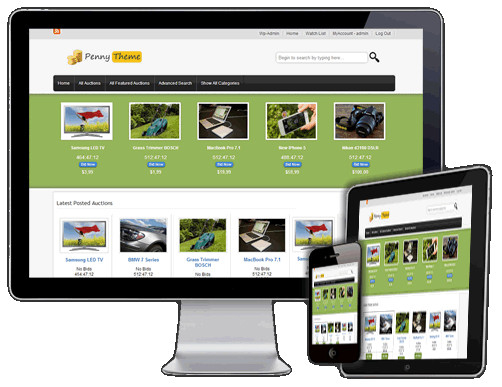 This WordPress theme also comes with a powerful back-end, seamlessly integrated with WordPress administration. It is allowed to define the bid packages for your customers when buying. It also allows you to set individual bids to increase bids and time, every time one of your client's bids, a starting price also appears for your auction.
If you are new to the idea of ​​penny auctions. Here you can see a decent explanation from Wikipedia.
Characteristics:
Multi-currency support: The main supported currencies are dollars (USD), euros (EUR), British pounds (GBP), Canadian dollars (CAD), Australian dollars (AUD), the Japanese yen (JPY), etc.
Email Notifications: Your users receive email notifications, when they bid, get outbid, or when they receive private messages.
Auction Entry: Penny auctions are custom entries and it's easy to add new auctions from the comfort of your WordPress admin. You can easily assign the categories, set the starting price, etc.
Auction Tools: This WordPress theme supports multiple common auction tools like bid time increase, a starting price, and many more.
Payment gateways: Currently, this WordPress theme only supports PayPal. But you can configure it to integrate any payment gateway, such as Google Checkout, 2checkout. You need to contact the developers of this theme.
User Account: Each user will have their own account with all their offers to auctions, buy credit packages, and much more
You May Also Read: A Beginner's Guide for WordPress GEO Redirect
Auction Plugins for WordPress
WooCommerce Simple Auctions
If you want to add auctions to your WooCommerce online store to boost your website, then this WordPress plugin will help you set up a WordPress auction website and start auctions in less than 30 minutes. You can easily make an eBay clone with regular and reverse auctions, along with their products.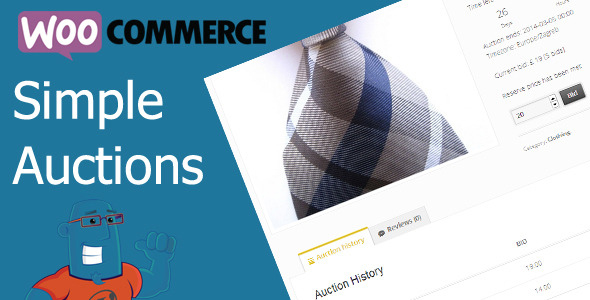 It also features email notifications with an editable email template for auctions won, auction failed, notification to outbid, pay for the auction won notification, notification of auction sold for a new price, etc. Some other features of this WordPress plugin are as follows.
Characteristics:
Proxy / auto-bid
Set the auction start and end time
WPML compatible for translation
Do virtual or downloadable product auctions, etc.
WP Auctions
The WP Auctions WordPress plugin is a great WordPress plugin that allows you to host auctions on your WordPress website. Now,  you do not have to pay sales commissions, sales expenses, gallery expenses, or any other type of fee for the auction of your product on the third-party website.

You just have to install this plugin and the product to auction on your website. Some other features of this WordPress plugin are as follows.
Characteristics:
Use PayPal to accept payments
Popup Sleek Ajax to display your auctions
Upload an image of your auction
Include as many auctions as you want
Set a specific end date, time, etc.
Ultimate WordPress Auctions
Ultimate WordPress Auctions is another good plugin through which you can easily auction your stuff on your website. You can start selling your stuff quickly and easily by setting up a stylish and professional auction website like eBay.

This WordPress plugin is simple, flexible, and works with any WordPress theme. Some other features of this WordPress plugin are as follows.
Characteristics:
Registered users can place ads
Upload multiple product images
PayPal Ready Payment Setup
Add standard auctions for bidding
Ability to cancel the last offer, etc.
Auction Nudge
WordPress Auction Nudge really works for those who want to display their eBay auction listing on their website. This WordPress plugin allows you to integrate your eBay live information into your WordPress website.

If you sell on eBay, you can easily include your eBay profile, your eBay feedback, eBay listings on your website just by installing one line of code.
Conclusion
We would recommend you do a study of these WordPress auction themes and plugins for your website since they come with many features that we have exposed and depending on what you need you can choose one or the other. We hope that you are already clear about what characteristics a good WordPress auction theme should have. If you have any difficulties, please join our Theme Rally Community to ask your questions.